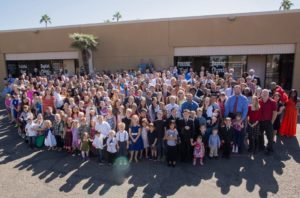 Steven L. Anderson  planted Faithful Word Baptist Church on December 25, 2005. In the years since, through an effective social media presence, including dozens of youtube pages, he has made his teachings very public. He received national media attention in 2009 after a video of him stating from his pulpit that he prays for Barack Obama to die was released.
Because of the public nature of his ministry, most of his teaching is available to view on YouTube. Some of his specific differences from Independent Fundamental Baptists make the hallmarks of the "New IFB" movement.
In addition to these major errors, "New IFB" pastors, following the example of their leader, Steven Anderson, tend to bring conspiratorial elements into their preaching and practice, commonly supporting 9/11 conspiracies, anti-flouridation, anti-vaccination, and other strange movements.
New IFB teaching includes strange new positions such as that police should not exist, Men should not be gynecologists, Men should urinate in certain ways, Bible College is unscriptural etc.
Because of these errors, it is apparent that the "New IFB" is not IFB at all, and should be rejected by true Bible believers.