Though Pastor Iain Hewson of Preach the Word Baptist Church is not officially listed as a new IFB pastor, there's no doubt that he has learned his doctrine from them and is a part of the movement. He frequently will preach on a subject right after someone else in the New IFB does, showing he is watching their videos for his sermon cues. He teaches several doctrines together which have never been taught by Independent Baptists
Here are some examples of Hewson's New IFB influence:
He teaches that Jesus paid for our sins – not only on the cross – but by suffering in hell (another gospel)
He teaches that the rapture cannot take place at any time
He preaches theology that it is wrong to be vaccinated
He preaches against Sunday School
These are all documented here on NewIFB.info.
He is listed on New IFB pastor Logan Robertson's Pillar Baptist Church website as a "like minded church" :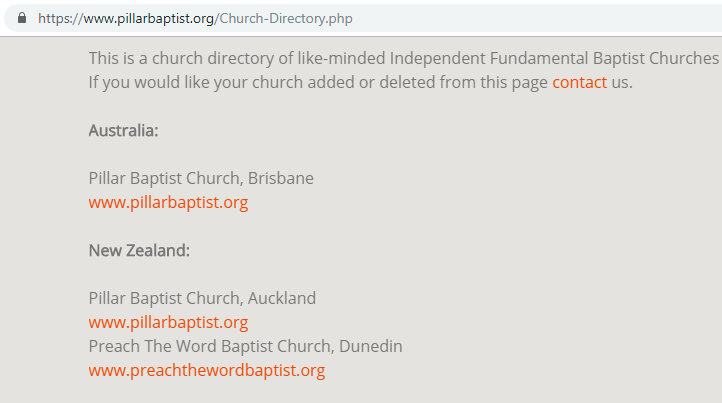 Robertson has preached at the church as well.
For more information on what the New IFB is, and why they are such bad news, keep reading: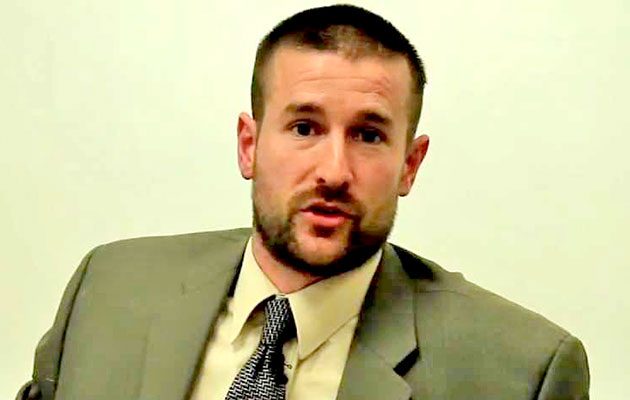 In 2005, Steven L Anderson started Faithful Word Baptist Church, and began teaching a new and strange set of doctrines. With his charismatic personality and boldness in preaching his opinions, as well as an effective social media strategy, he has won many over to himself. He is admittedly attempting to change what it means to be an Independent Fundamental Baptist. Many have caught on, but some are still being convinced by his errors.
In 2018, the churches that follow Anderson branded themselves as the New IFB. Each preacher follows in lockstep with Pastor Anderson, and if they don't they risk being kicked out. When members leave Faithful Word Baptist Church, Anderson brands them not only as unsaved and going to hell, but also as "reprobate", which in Anderson's theology means that they cannot ever get saved. They are bound to go to hell without a chance to change that. Pastors who leave the movement or upset Anderson are blacklisted, all mention of them is purged from the New IFB denomination's website, and pastors within the movement are encouraged to preach against them and post videos discrediting them and criticizing their preaching. Often the same pastors who once criticized others who left the new IFB find themselves also leaving the New IFB and receiving the same treatment.
So what does the New IFB believe? There are several unique beliefs that Anderson holds to, which, as a result are part of New IFB doctrine.
First, they preach another gospel than Independent Fundamental Baptists do.
The New IFB preaches that Jesus death and resurrection was not enough to save from sin. Instead, Jesus had to go and burn in hell where he paid for our sin there. (So much for "it is finished!")
The New IFB preaches that for certain people, they are unsaved, regardless of their faith in Jesus Christ. In other words, for these people, salvation is not by grace through faith. See below:
Second, the New IFB preaches many things as scriptural doctrine, which are not in the Bible, nor have been taught by Independent Fundamental Baptists in the past. These include:
Some of the root differences between the New IFB and Independent Baptists come from the fact that they believe in replacement theology, and so take the Old Testament Laws given to the nation of Israel and apply them to New Testament Believers today. (This is what Calvinist Covenant Theology does as well) As a result of this, any understanding of the Bible that divides the Bible into parts that are "for Christians today" and other parts that are "not for Christians today" are rejected. This leads to them calling for so-called "righteous government" to be established that mirrors the Theocracy of Israel, executing people for the same capital crimes, such as blasphemy, disobedience to parents, and homosexuality. They then reject any prophetic purpose for Jews or Israel, apply Old Testament "clean and unclean" laws on Christians, and end up with a post-tribulation Rapture.
Additionally, Steven Anderson and his followers use lots of crass language, say the Bible teaches that men should urinate standing up, and preach a lot of conspiracies (like chemtrails and water fluoridation conspiracies)
For an excellent and short presentation which shows the cultlike and non-Baptist nature of the New IFB and Steven Anderson, watch the video below:
Posted in

Anti-Dispensationalism, Anti-Israel, Anti-Repentance, Conspiracy Theories, Holocaust Denial, New IFB Movement, Pre-Wrath Rapture, Sodomites and Salvation, Works Salvation
Tagged

Anti-vax, Anti-Zionism, Conspiracies, Dispensationalism, Holocaust, New IFB, Pre-Trib, Pre-Wrath, Steven L Anderson, Works Salvation
38 Comments