Blessed Hope Baptist Church in New Westminster British Columbia Canada, which goes by blessedbaptist1611 on facebook, is a church that is closely related to the New IFB. Since the church was never listed in the New IFB church directory, and has since had a falling out with New IBF leadership, Pastor Gleb has realized that hiding from his New IFB past is the best way to try and gain membership.
He has done some commendable things in that regard, such as decrying the New IFB's false gospel through a series of videos on his YouTube channel. However, other than a few points of doctrine, Gleb and Blessed Hope Baptist Church still agree with the New IFB and teach their doctrines.
It starts with Bill MacGregor, who helped his father plant a New IFB Church in Canada – Trinity Baptist Church. Anderson and others from the New IFB came and visited the church and approved of it. Below is an interview between Bill and Manly Perry.
The New IFB kicked MacGregor out over a few issues, around the time of a controversy on the impeccability of Christ. Despite this, Bill is still holding onto the title of New IFB.
Below is the header to Bill's channel on YouTube as of August 17, 2019:

So what does this have to do with Gleb Glebov and Blessed Hope Baptist Church? Gleb was ordained by Trinity Baptist Church and pastor Robert MacGregor:

Bill MacGregor reviewed Blessed Hope Baptist Church on facebook. Here is what he said- note how he affiliates the church with the New IFB:

Oh, and those two 'likes' on his comment? One of them is from Blessed Hope Baptist Church- Gleb himself.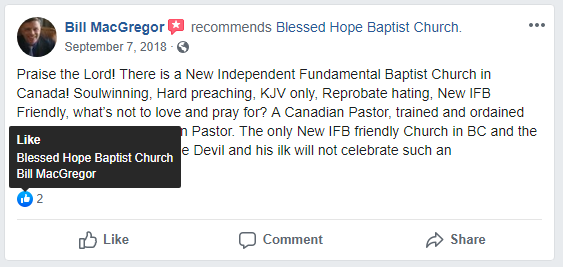 The New IFB is bad news – and so is Blessed Hope Baptist Church. Stay away!