Edit June 2018: Doka is trying to rebrand to escape his flat-earth past. He renamed his church to "Pillar of Truth Christian Church" and deleted all the controversial videos on his channel. As of now, his flat earth sermon can still be found here: Link
Since the previous post on this topic, Tyler Doka has continued to preach that the earth is flat.
He has posted on his YouTube Channel three "Flat Earth Moments" videos:
Flat Earth Moment #1 The Circle of the Earth
Flat Earth Moment #2 Multiple Worlds
Flat Earth Moment #3 The Sky Stone Debunked
He has also preached on the bottomless pit, flat earth hell.
He is now embarking on a 22-part Revelation series from a flat earth perspective and, the latest message posted to his Youtube Page is titled "Revelation 2 | Flat Earth End Times Prophecy (KJV Baptist Bible Preaching)". He begins his message by stating that though Revelation 2 doesn't cover the flat earth, it is still flat earth preaching. (In other words, his whole church and ministry is now a flat earth centric ministry, no matter the subject)
He also has changed the image behind him to what he calls the "Flat Earth Horizon." (shown below)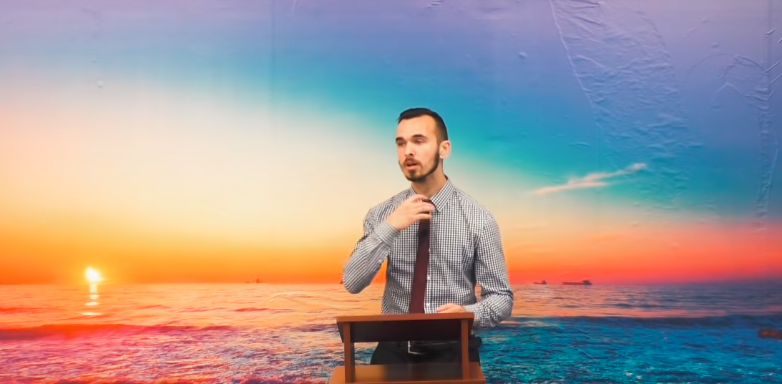 The rest of the New IFB has unanimously denounced Tyler Doka.
Bruce Mejia, pastor of Faithful Word Baptist Church in El Monte, California posted the video "Tyler Doka used the NEW IFB Platform to Promote his STUPID doctrine", where he calls it "stupid heresy" and calls Tyler Doka "a snake" and "a hypocrite."
Michael Johnson, pastor of Temple Baptist Church in Jacksonville, Florida posted the video "Flat-Earther Tyler Doka Attacks The New IFB! Pastor Johnson Responds" where he calls Doka's preaching "absolutely ridiculous" and that Doka has an "arrogant attitude."
Jason Robinson, pastor of Mountain Baptist Church in Fairmont, West Virginina posted the video "The Flat Earth from an Engineering Perspective", where he does a good job debunking dome of Doka's arguments.
The description of a clip of Anderson's anti-flat earth sermon on The New IFB channel calls out Doka as having "crept in unawares" (see below)

Despite the negative publicity or perhaps in part because of it, Doka continues to get the views on his original sermon, plus reposts of it on other flat-earth channels and also in other videos he is featuring in. (see below)



As of today, Doka and Great Harvest Baptist Church are still listed in the New IFB church directory at https://www.thenewifb.com/church-directory.