Rick Martinez was a member of Faithful Word Baptist Church, who was kicked out at the same time Tyler Baker was, along with Elliott Ray. Since then, he has moved to Jacksonville Florida to be at Baker's church. Along with Baker, Ray, Garrett Kirchway, Domonique Davis, Victor Tey, and others, Martinez denies the orthodox trinity. He posted the following video on June 30 of 2017 explaining his beliefs.
Exactly one year later, something strange happened. The following comment showed up on one of Steven Anderson's videos, posted from Rick's account.

Anderson contacted Martinez about this, and Martinez told Anderson through text that though the comment was on his account, he did not post it himself. He made this comment:

Anderson didn't like Martinez's responses, and so made a video where he claims Rick is a reprobate (e.g. cannot be saved) because anyone who leaves Faithful Word Baptist church is damned to hell (This is also what the Mormons teach)
Here's a bit of what Anderson said:
"We already know these people aren't saved. And if you can go to Faithful Word Baptist Church for years, and hear all the clear preaching and even go through the motions of going out soulwinning and you are still not saved, you are obviously a reprobate."
Anderson claimed in the video that Martinez was lying because he uses strange phrasing, saying that his account was "infiltrated", He claims that Martinez could not provide any evidence to show the comment was not made by him, and then says his first instinct is that Martinez was drunk or High. Anderson's second thought is that he was demon possessed, and still thinks this is very likely. The third possibility according to Anderson is that Martinez has an atheist troll account that he was not signed in to accidentally.
Here's Anderson's full video:
After Anderson made this video, Martinez responded with a 40-minute video, claiming his account was hacked and discussing the trinity. He makes the claim that his old work phone was logged in and the comment must have come from whoever was assigned that phone.
Anderson responded with this video, claiming that Martinez's timing was off because of the account times not lining up.
Martinez posted this video, explaining the timing difference, and also sharing the text-message conversation from before Anderson posted the first video.
Finally, Martinez posted this video, where he calls his old company and speaks to the employee who got his phone, and tells how he was logged into Martinez's account and he indeed had posted the comment. This reliably shows that Martinez did not post the comment.
A few comments posted on this final video: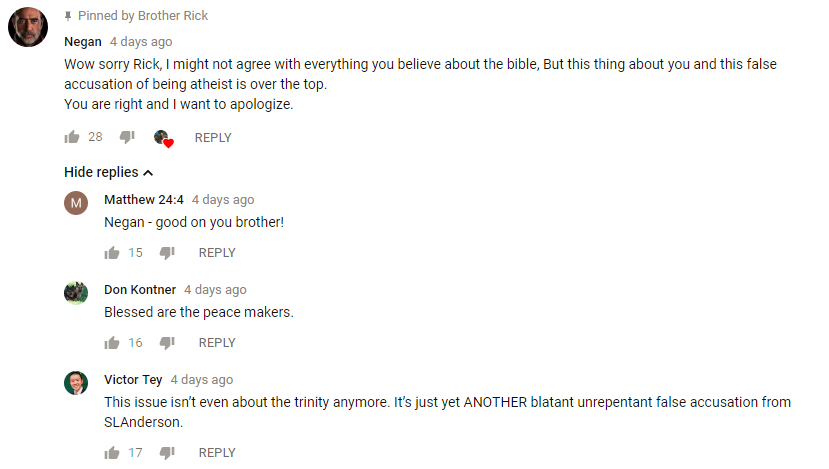 As of right now, Anderson still has his false videos attacking Rick posted on his channel: