First Works Baptist Church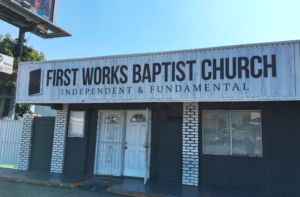 (formerly known until August 2019 as Faithful Word Baptist Church) in El Monte, California is a church that is led by Pastor Bruce Mejia. There are many reasons that one should not attend this church. Mejia himself preaches many doctrines that are not biblical, but that he learned from Steven Anderson and Roger Jimenez. These include teaching that repentance for salvation is unbiblical, that sodomites cannot be saved, and preaching against vaccinations.
From the post on this website "What is the New IFB?" Here is the kind of doctrine that is accepted by the small group of churches that this church is a part of:
In addition to these major errors, "New IFB" pastors, following the example of their leader, Steven Anderson, tend to bring conspiratorial elements into their preaching and practice, commonly supporting 9/11 conspiracies, anti-flouridation, anti-vaccination, and other strange movements.
New IFB teaching includes strange new positions such as that police should not exist, Men should not be gynecologists, Men should urinate in certain ways, Bible College is unscriptural etc.
Because of these errors, it is apparent that the "New IFB" is not IFB at all, and should be rejected by true Bible believers.