Stedfast Baptist Church in Jacksonville, Florida is a church that is led by Adam Fannin. The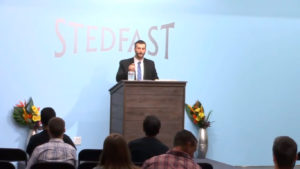 re are many reasons that one should not attend this church. Fannin himself preaches many doctrines that are not biblical, but that he learned from Steven Anderson, the leader of the New IFB movement which he is a part of. Fannin calls Anderson "The mouthpiece of God in America." Fannin is also very much into conspiracy theories, to the point of preaching lies about GMO seeds, and filtering out the fluoride from church water.
From the post on this website "What is the New IFB?" Here is the kind of doctrine that is accepted by the small group of churches that this church is a part of:
In addition to these major errors, "New IFB" pastors, following the example of their leader, Steven Anderson, tend to bring conspiratorial elements into their preaching and practice, commonly supporting 9/11 conspiracies, anti-flouridation, anti-vaccination, and other strange movements.