Kevin Sepulveda started New Life Baptist Church after he was ordained by Victor Tey and the Church in Punchbowl. Originally, the church was called "The Church in Caloundra", following Victor Tey's naming scheme.
Kevin fell under the influence of Logan Robertson, however, and began to distance himself from Tey. Tey notably has several differences from the mainstream of the New IFB, and Sepulveda wanted to be more in with them.
The following is on the website of New Life Baptist Church:
Experience was gained at The Church in Punchbowl with assisting in the growth of a new church plant. It was there that he was ordained to the office of a Bishop on Sunday the 24th of September 2017 and sent out to establish The Church in Caloundra (now New Life Baptist Church).

Due to a number of families seeking a like-minded church in Sydney, Pastor Kevin Sepulveda has established New Life Baptist Church Sydney as a satellite church with the goal for it to become a future independent church.
Sepulveda has preached at Trinity Baptist Church in Toronto before the split from the new IFB.
In the latest New IFB directory, Sepulveda is now list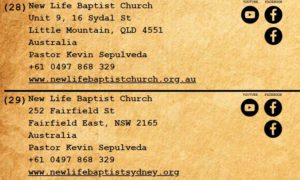 ed, as you can see at left. Prior to October 2018, he was not part of the list, but it is apparent that the new IFB and Steven Anderson are satisfied that he is sufficiently distant now from Victor Tey who they view as a snake and a heretic.