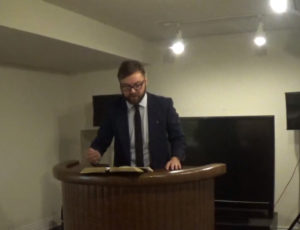 Sound Words Baptist Church is a small assembly who formed after Trinity Baptist Church in Toronto Canada split, during the impeccability controversy. As a result of that controversy, Trinity Baptist Church was removed from the New IFB church directory and basically shunned form the new IFB.
Although the split seems to have been spearheaded by Tim Xing, the de-facto pastor of Sound Words Baptist Church is Josh Gander. The online presence of this church is limited to a YouTube channel with almost exclusively features his preaching. Bill MacGregor has posted many videos decrying Gander and the new congregation.
Notably, the New IFB movement as a whole has not accepted Sound Words Baptist as one of their churches -yet- and it does not -yet- appear in the New IFB church directory. [Update June 2019 – Sound Words is now in the New IFB directory.]
Despite these arguments, this group teaches nearly all the same things that MacGregor and the New IFB as a whole preach.
From the post on this website "What is the New IFB?" Here is the kind of doctrine that is accepted by the small group of churches that this church is a part of:
In addition to these major errors, "New IFB" pastors, following the example of their leader, Steven Anderson, tend to bring conspiratorial elements into their preaching and practice, commonly supporting 9/11 conspiracies, anti-flouridation, anti-vaccination, and other strange movements.